Halloween Underwater Photoshoot
October 17, 2018
Long Beach, California
27 October, 2018
Come play in our custom built Beetlejuice-inspired Underwater Graveyard Set!
"This has to be one of the coolest experiences ever!"

What is this?
In honour of the first Halloween at our new Underwater Studio here in Long Beach, California, we've created an awesome Beetlejuice-inspired graveyard set and opened it up to anyone who wants to come and play.
Who is this for?
Anyone who has a halloween costume they'd like to wear in the set is welcome! The graveyard is in 8ft of water so you would just need to be comfortable in the water, but we can also shoot in the shallow end of our studio as well if you prefer. Our photographer Brett Stanley is very good at making people feel comfortable in the water, and even people who can't swim get great results!
When is it?
October 27th 2018
What's the location?
Our custom designed Underwater Photo Studio in Long Beach California, just off the 710 freeway. Our studio pool is private and heated so comfort is a priority!
What's the cost?

Underwater photoshoots can be very expensive to put together, but we've tried to keep our prices low to make it affordable for anyone. You can also share a package with a friend or partner if you like, making it more affordable.
Halloween Package ($399)
1 x 60 Minute Pool Session
4 x Retouched Images (At least 1 guaranteed by Oct 30!)
Private Online Gallery (for viewing & ordering images)
Posing & Breath-hold Coaching
Optional Extras
Underwater makeup**: $125/person
Additional person per shoot (Doubles or Group): $150/person
Additional retouched images: $75/image (bulk discount prices available)
We can organise a payment plan if needed.
** (Makeup needs to be specifically waterproof or it will come off once you get in the pool, alternatively we can have one of our experienced underwater makeup artists at the shoot for you.)
# (Not available in conjunction with any other discounts)
Read our Frequently Asked Questions for more details.
"It was my first time doing anything underwater but Brett gave me lots of prep before hand and made it an awesome experience. Super happy with the result and would totally recommend it!"
---
How To Book
Places are very limited, so please email us to book. Include the following:
Date
Location
Package
Name
Email Address
Phone Number.
"Experience of a lifetime! Fantastic shots!"
---
Gallery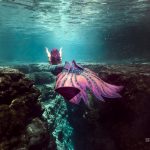 Previous post Florida Springs Underwater Photoshoots 2018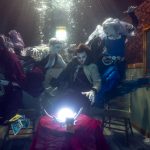 Next post Underwater Mystic Set – Open Shoot Day