Long Beach Underwater Studio – Open Photoshoot Days
March 5, 2019
Long Beach, California
Open Photoshoot Days – 2019
Come join us for a day of discounted photoshoots
at our underwater studio!
"WOW….incredible experience!"
What is this?
A chance to experience one of our underwater photoshoots at an affordable price, like a sampler of our premium photoshoot packages. From the moment you arrive at our underwater studio in Long Beach, California you'll be guided every step of the way, from professional makeup* to posing coaching and essential tips on how to hold your breath! Our team has been shooting underwater for years now so they know what will work and how to get the most out of your sessions.
When is it?
2019 Dates
March 30
April 27
May 25
June 29-30 (Pirate Invasion Weekend)
July 27
August 31
September 21
October 26
November 23

What's the location?
Our custom designed Underwater Photo Studio in Long Beach, California – just off the 710 freeway. Our studio pool is private and heated so comfort is a priority!
Who is this for?
These open shoot days are for anyone who wants to try an underwater photoshoot, whether it's our famous underwater poledance, aerials, mermaid, cosplay, or just a simple beauty/glamour theme. We work with all experience levels, even those who can't swim, and kids are welcome with their parent or guardians.

What's the cost?
Underwater photoshoots can be very expensive to put together, especially something this unique, but we've tried to keep our prices low to make it affordable for anyone. You can also share a package with a friend or partner if you like, making it more affordable.
Get a friend to book a full package and you'll get 10% off each!#
Please let us know when you book that you are friends, not valid for group shoots.
Deluxe Package ($849)
2 x 60 Minute Pool Sessions*
8 x Retouched Images
Private Online Gallery (for viewing & ordering images)
Modelling Guidance
Breath Hold Coaching
Our Amazing Invisible Nose-plugs
Basic Package ($499)
1 x 60 Minute Pool Session
5 x Retouched Images
Private Online Gallery (for viewing & ordering images)
Modelling Guidance
Breath Hold Coaching
Optional Extras
Underwater makeup**: $90/person
Additional person per shoot (Doubles or Group): $150/person
Additional retouched images: $75/image (bulk discount prices available)
60 Second Slow Motion Video: $300.
We can organise a payment plan if needed.
** (Makeup needs to be specifically waterproof or it will come off once you get in the pool, alternatively we can have one of our experienced underwater makeup artists at the shoot for you.)
Read our Frequently Asked Questions for more details.

"It was my first time doing anything underwater but Brett gave me lots of prep before hand and made it an awesome experience. Super happy with the result and would totally recommend it!"
---
How To Book
Places are very limited, so please fill out the form below to register your interest:
[contact-form-7 id="2192″ title="Booking Form"]
---

"Experience of a lifetime! Fantastic shots!"
---
Gallery
[ngg src="galleries" ids="7″ display="photocrati-nextgen_pro_masonry"]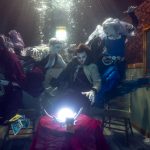 Previous post Underwater Mystic Set – Open Shoot Day