Mermaid Workshop with Hannah Mermaid 2017
October 6, 2017
North Hollywood, CA
25th & 26th Nov 2017
A Once in a Lifetime Experience

Underwater photographer Brett Stanley has teamed up with world famous mermaid, activist, and professional underwater model Hannah Mermaid, as well as award winning body painter Lana Chromium to bring you an underwater workshop like no other.
Who is this for?
Do you dream of being a mermaid and slipping away into the ocean? If you have ever wanted to learn how to swim gracefully in a mermaid tail, extend your breath-hold, and get some amazing pictures then this is for you! All experience levels are welcome, from the beginning first timer to long time mermaids, there's always something to learn and Hannah has over 15 years of mermaid experience (she made her first tail at 9!).
Hannah will guide you through putting the tail on, how to move, how to breathe, how to look amazing, and most importantly how to stay safe. She will be with you every step of the way, giving you advice on the best angles and what's going to look good on camera. Session includes:
Yoga/stretching routine designed to allow better oxygen flow through the body and lungs.
Deep breathing and free diving breath hold techniques to increase breath hold capabilities.
Tips and pointers on how to swim like a mermaid most effectively
Tips and tricks on tail making
Fine tuning body movements, poses and tricks for underwater dance and swimming.
Then Brett will take you through the photoshoot process, directing you and making sure you're looking your very best! His relaxed style will put you at ease and allow you to simply enjoy the dreamlike feeling of swimming in your tail.
A few lucky attendees will also be able to book body paint with Lana and she will spend 2 hours designing a custom artwork to match your tail. Lana's skills are perfect for this theme as her organic shapes and colours perfectly mimic the ocean.
"I just want to say how amazing Brett and his crew are. I was having such a difficult time putting all the pieces together…breathing, buoyancy, looking pretty, but Brett was professional and patient."

---
Location & Dates
25th & 26th November, North Hollywood, California
(Our private pool is heated)
---
Packages & Prices
We are so lucky to have Hannah take time out of her busy schedule for this workshop, along with Brett, so we've put together a package that will no doubt leave you wanting more!
Workshop Package ($750)
30 minutes 1-on-1 training session with Hannah
60 minutes underwater photoshoot with both Brett & Hannah
Pre-shoot advice with Brett via email or phone
Professional beauty makeup
5 x Retouched Images
Private Online Gallery (for viewing & ordering images)
1 set of our custom nose plugs
1 minute edited video of your experience
Body Paint with Lana Chromium Add-on ($250)
2hr custom body paint session
1 x Retouched image (above water)
Lana will create a one of a kind, full colour artwork on your torso, taking inspiration from the ocean to match your mermaid tail. See more of Lana's work here.
Additional retouched images: $75/image (bulk discount prices available)
"Very professional and what a great experience! I loved it, but I regret not purchasing a longer session."
---
How To Book
Places are very limited, so please email us to book and include these details:
Name
Email
Phone Number
Date and preferred time of day
How you heard about the workshop

---
About the Instructors

Hannah Mermaid has been featured worldwide for her underwater ocean conservation and performance art, creating her own spectacular tails, performing for film, music videos, campaigns, photo shoots, public speaking events, festivals & environmental actions. She swims with sharks, whales dolphins, seals, turtles, rays and more in the open ocean. Hannah can hold her breath for minutes at a time and freedive to depths of over 50 feet. She broke records as the first person to dance with Tiger Sharks on the ocean floor with no scuba or snorkel gear, and was part of an activist group who paddled out to protect dolphins from slaughter in the academy award winning film 'The Cove'. She released a short film called Mantas Last Dance that propelled Manta rays into the public eye and helped pass a law to protect mantas worldwide. She is an advocate for ocean protection, female empowerment, animal conservation and universal love!


Brett Stanley is a professional underwater photographer whose innovative work has been published worldwide in magazines such as Cosmopolitan, D-Photo, Gothesque, Dark Beauty, and features regularly on television . After falling in love with underwater portraiture in 2013 Brett made the move from New Zealand to Los Angeles, and his career has taken him to many countries around the world. His relaxed style of instruction creates a safe and enjoyable environment for his clients, many of whom can't even swim. Brett's goal is to bring the underwater experience to anyone who dreams of the surreal and fantastic.

Lana Chromium, born and raised in Russia, studied art in Penza & Moscow before moving to California and immersing herself in body painting. Chromium competed in Living Art America: The North American Bodypainting Championship from 2013-2015. In 2015, she won the second season of the Game Show Network's Skin Wars. Chromium premiered her signature brush line with Royal & Langnickel at IMATS L.A. 2016. In 2016 – her team took 3rd place in Art Installation award at World Bodypainting Championship WBF in Austria.
See her portfolio, her Youtube channel, and instagram.
---
Behind the scenes
---
Gallery
---
"Experience of a lifetime!"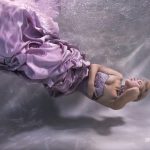 Previous post Miami Underwater Photoshoot 2017