Underwater Cosplay/Fantasy Workshop with Jessica Dru 2018
April 12, 2018
Long Beach, California
23 June 2018
A Once in a Lifetime Experience

Our underwater photographer Brett Stanley has teamed up with renowned underwater fantasy model Jessica Dru to bring you a cosplay modelling workshop like no other.
Who is this for?
This is a workshop for people of all modeling experience, especially those with none! If you've ever dreamed of flying or being weightless, or wanted to take your cosplay/fantasy costume photos to the next level this is for you. Even if you can't swim, we can make this an experience you'll cherish!
Starting with 1-on-1 training with Jessica, you will be taught how to not only hold your breath underwater but to look amazing doing it. She will show you how to work with garments to make them flow under the water, which poses work best for your costume, and how to stay safe the whole time. Jessica is a certified freediver so she knows what she's doing.
Once you feel confident in the water, Brett and Jessica will guide you through your photoshoot, giving you feedback on the best positions and making sure you are using the weightless dreamscape to it's full potential. Brett's instruction will have you relaxed and forgetting the camera is even there, so you can lose yourself totally in the character and environment.
"I just want to say how amazing Brett and his crew are. I was having such a difficult time putting all the pieces together…breathing, buoyancy, looking pretty, but Brett was professional and patient."



---
Location & Dates
23 June, Long Beach, California
(Our private pool is heated)
---
Packages & Prices
We are so lucky to have Jessica take time out of her busy schedule for this workshop, along with Brett, so we've put together a package that will no doubt leave you wanting more!
Workshop Package ($699)
30 minutes 1-on-1 training session with Jessica
60 minutes underwater photoshoot with both Brett & Jessica
Pre-shoot costume advice with Brett via email or phone
Professional makeup
5 x Retouched Images
Private Online Gallery (for viewing & ordering images)
Additional retouched images: $75/image (bulk discount prices available)
"Very professional and what a great experience! I loved it, but I regret not purchasing a longer session."
---
How To Book
Places are very limited, so please email us to book and include these details:
Name
Email
Phone Number
Date and preferred time of day
How you heard about the workshop

---
About the Instructors

Jessica Dru started underwater modeling in 2012 for the Mermaid Project, and since then worked underwater in the Motherland Chronicles, short films, and music videos. Her passion is to work closely with other artists to realize complicated, costumed, fantasy photoshoots. The fantasy projects she's a part of are innumerable, and are seen in publications like Faerie Magazine, FAE Magazine, D-Photo, and Dark Beauty Magazine.
As cross training for the underwater work, she is a trained freediver who can hold her breath for over 3 minutes. She uses this training to teach others how to get a successful performance underwater, even with less than 30 seconds of breath hold. She's done over a hundred underwater photoshoots and has a wealth of information and experience to create beautiful results safely.

Brett Stanley is a professional underwater photographer whose innovative work has been published worldwide in magazines such as Cosmopolitan, D-Photo, Gothesque, Dark Beauty, and features regularly on television . After falling in love with underwater portraiture in 2013 Brett made the move from New Zealand to Los Angeles, and his career has taken him to many countries around the world. His relaxed style of instruction creates a safe and enjoyable environment for his clients, many of whom can't even swim. Brett's goal is to bring the underwater experience to anyone who dreams of the surreal and fantastic.
---
See behind the scenes
---
Gallery
---
"Experience of a lifetime!"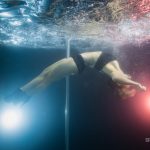 Previous post Orlando Underwater Photoshoots 2018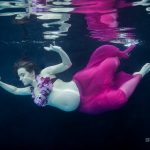 Next post Switzerland Underwater Photoshoot 2018