Valentine's Day Underwater Photoshoots
January 17, 2020
Valentine's Day Underwater Portrait Photoshoot
A unique and romantic experience that you'll never forget
Valentine's Day is all about showing and remembering the love you have for your significant other, or even just remembering to love your self!
[ngg src="galleries" ids="11″ exclusions="456,457″ sortorder="453,417,418,419,420,421,422,423,424,425,426,427,428,429,430,431,432,433,434,435,436,437,438,439,440,441,442,443,444,445,446,447,448,449,450,451,452,454,455,456,457″ display="photocrati-nextgen_pro_masonry"]
Join us at our underwater studio in Long Beach, California, where we will guide you on an amazing underwater portrait experience and help to create beautifully intimate images. From our professional makeup artists to our highly experienced (and world renowned) underwater photographer Brett Stanley you'll be shown everything you need to make the photoshoot a success – regardless of your ability level in the water.
---
Pricing
Book before Jan 31st and get 20% off!*
Our Valentine's Day Package includes:
Professional underwater makeup
Outfit and wardrobe consultation
Underwater posing and breath-hold training
A 1 hour photoshoot with Brett
Online private proofs gallery
5 fully retouched print-ready images
Total Cost: $750
*Special price only valid for deposits paid before 1/31/2020. Shoots must be booked for a date before 2/28/2020.
---
How To Book
Places are very limited, so please fill out the form below to register your interest:
[contact-form-7 id="2192″ title="Booking Form"]

---
Frequently Asked Questions
Do I need to be able to swim?
No, our studio pool has a shallow end of just 3ft deep meaning you can easily stand up or get to safety without any trouble. In fact, most of what you will be doing for the shoot is either just sinking under the surface or floating on top.
I have a fear of water, can I still do the shoot?
Yes! Brett has worked with many people over the years who have had a fear of water and they have all come out loving the experience. So long as you have the desire to overcome your anxiety you can do anything, especially with Brett's ability to create a calm and safe space at the studio.
Do I need to supply my own outfits?
In most cases yes, unless you've organised with us to provide some for you. We do have a selection of coloured fabrics at our studio that you're more than welcome to use on the day.
Can I do my own makeup?
We do recommend using our makeup artists as they have the experience and knowledge of waterproof products, but you can certainly do your own if you'd like.

How long will it take to get my final images?
After the shoot we will upload all the proofs in to a private, password protected gallery for you to view. From there you can make your selections of the final images and send those choices through to our team. Once we have your choices we will endeavour to have them back to you as soon as possible depending on our workload.
Will water go up my nose?
This happens to most people and it will depend on the person as to whether it causes any discomfort. If you find you have problems with water up the nose, we have invested in some custom nose plugs that are almost invisible and will stop any water from entering your nose. This means you can concentrate on looking amazing in the water, even upside down!
What if I can't open my eyes?
Not a problem! Opening your eyes is totally optional and photos with closed but relaxed eyes look great!
Do you work with Children?
We certainly do, children of all ages are welcome at our shoot so long as they are accompanied by their parent or guardian in the water with them for safety and assistance.
Can I bring friends to watch/help?
Yes! Feel free to bring 1 or 2 friends to your shoot if you'd like the support or even to assist you in manoeuvring around the water with your fabric or outfit. We like to limit it to a small number just for safety around the water.
Do you photograph groups?
If you have a group of people wanting to shoot together we can totally accomodate you, although more than 4 people may require a bit more time for your session just to get everyone in the right spot. We'd recommend having individual shots as well so we can composite them together if needed!
Is the pool heated?
Our studio pool is heated to a comfortable 90f and we have a hot shower for once you get out.
Is the pool chlorine or salt water?
All pools have a degree of chlorine in them, even salt water pools, but saltwater is a lower concentration making it softer on the skin and eyes. Our studio pool is saltwater and chemically balanced to not sting your eyes, making it easier to open them.
Do you require a deposit?
We require a $200 deposit to secure your booking, and the rest is payable 7 days before the shoot date.
Do you have payment plans?
Yes! We know these packages are an investment so we can organise a payment plan for you to make it easier.
Are there different backgrounds at the shoot?
We will have at least white and black backdrops available, and possibly others depending on the location.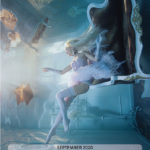 Previous post 2020 Underwater Photography Calendar