Halloween Photoshoot 2022 – "Stranger Things"
July 28, 2022
Floating in the Upside Down
Los Angeles
23 - 25 September 2022 (Sold Out)
7-8 October 2022
Join me on the 23-25 September & 7-8 October at my underwater studio in Long Beach, CA, for a once-in-a-lifetime "Stranger Things" themed underwater halloween photoshoot!
I'll be transforming my water-filled studio into the Upside Down, complete with an interdimensional "gate" to the world of Vecna & The Mind Flayer.
Guests will be able to dress as their favourite character and float around in the vine filled scene, using a variety of props such as Eddie's guitar or even riding a bike!
The Theme
The pool will be transformed with "alien vines" like the pool in the images below, and I'll have a "gate/portal" at the bottom of the pool complete with glowing lights! There will be tentacles to interact with, as well as some cool props to complete the vision – plus Kate Bush's "Running Up That Hill" on high rotation 😉
This is an incredibly custom photoshoot and anyone participating will look amazing in this unique scene – and for fans of Stranger Things it's a chance to be part of the  Hellfire Club!
Package includes:
1 hour photoshoot session
5 x retouched print ready images
$50 credit towards fine art prints
Full pose & breath-hold coaching
Outfit & theme consultation via email
Private proof gallery
Price: $599
Professional Makeup: $250
Prosthetics/Body Paint: From $400
Behind The Scenes Video: $300
How To Book
Click the button below to go to our booking form. Select the date you'd like to book,  and for the package please choose "Other" and type Stranger Things.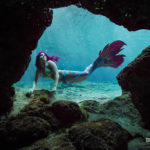 Previous post Florida Springs Underwater Photoshoots 2022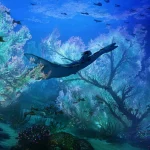 Next post Avatar 2 – The Way Of Water Photoshoots