Mermaid Bootcamp With Hannah Mermaid
May 16, 2023
15 & 16 July, Long Beach, California
Join international icon Hannah Mermaid & underwater photographer Brett Stanley for Mermaid Bootcamp!
To celebrate the release of The Little Mermaid & the Netflix MerPeople docuseries we have organised a program of Mermaid training and underwater photoshoots.
Attendees at the 1 day bootcamp will learn:
Breathwork, Stretching & Movement: Designed to improve underwater performance for modeling, diving & swimming.
Flowing mermaid movement to open lungs, ribcage and heart.
Body isolations
Breath hold
How to swim with Mermaid Tails & Dresses for underwater modeling.
Tips and tricks.
Buoyancy regulation with air release
Hair management and flow
Eyes, ears, nose underwater care tips
Mouth relaxation
Body posture & posing underwater
Makeup tips
Managing fabric and dresses underwater
Water /free diving uw safety (shallow water blackout, dangers)
Culminating with in-water photoshoot training with photographer Brett Stanley, putting all these skills into practice in our custom Mermaid Grotto set.
No experience is necessary, but you must be able to swim and be comfortable in 9ft of water. We can provide a fabric tail if you don't have one.
For more details & pricing, please fill out the form below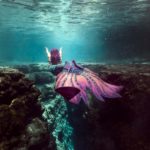 Previous post Florida Springs Underwater Photoshoots 2023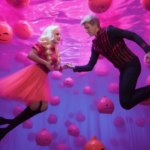 Next post Underwater Halloween Photoshoot 2023