Underwater Halloween Photoshoot 2023
September 16, 2023
It's the Barbie Fever-Dream House!
Los Angeles
15 & 16 Oct 2023
Join me on 15 & 16 Oct 2023 at my underwater studio in Long Beach, CA, for a once-in-a-lifetime "Halloween Barbie & Ken" themed underwater halloween photoshoot!
I'll be transforming my underwater studio into a crazy Barbie Halloween themed set, complete with waaaaaay too much pink.
Come dressed as your favourite Barbie character (even Allan!) and float around in this crazy, spooky, bright pink fever dream!
The Theme
My studio pool will be transformed with bright pink walls, loads of pink halloween decorations, pink gravestones, pink floating jack-o-lanterns, pink everything! It's going to be quite crazy, and perfect for anyone wanting to let Barbie (or Ken!) hair down – be it Zombie Barbie, Killer Barbie, Weird Barbie, or just regular Barbie.
Check out the mood-board below, and please note these are NOT actually what the set will look like (they're generated by a smarty pants Ai Computer), and they are just the inspiration for the final set – which will still be cool, because Yes We Ken!
This is an incredibly custom photoshoot and anyone participating will look amazing in this unique scene – especially for Barbie & Ken fans!
Package includes:
1 hour photoshoot session
5 x retouched print ready images
$50 credit towards fine art prints
Full pose & breath-hold coaching
Outfit & theme consultation via email
Private proof gallery
Early Bird Price: $599 (Book before 1 October 2023)
Regular Price: $699
We just require a $200 deposit to book your session, with the remainder due 2 days before the shoot.
Professional Makeup: $250
Prosthetics/Body Paint: From $400
Behind The Scenes Video: $350
How To Book
Please fill out the booking form below. Select the date you'd like to book,  and for the package please choose "Other" and type "Barbie".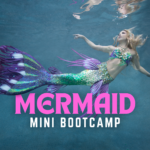 Previous post Mermaid Bootcamp With Hannah Mermaid