Underwater Studio Photography Workshop – Sydney
October 17, 2023
Learn the Art of
Underwater Studio Photography
16th November, 2023 - Sydney, Australia
Frog Dive, Willoughby, NSW, Australia
Are you ready to embark on a creative journey like no other?
Join Brett Stanley & Hannah Mermaid for an exhilarating one-day Underwater Studio Photography workshop in the heart of Sydney!
Explore the incredible realm of underwater studio photography, where we treat a swimming pool like a canvas and turn it into a studio brimming with artistic potential. Immerse yourself in a world where water's unique properties become your greatest ally in crafting stunning underwater portraits.

What to Expect
Underwater Portraiture & Lighting Mastery: Unleash your creative vision with an 8-hour, hands-on introduction to the art of underwater photography. Our expert instructor will guide you through every step of the process, ensuring you emerge with newfound expertise.
Featuring Professional Underwater Model – Hannah Mermaid: Learn from the best! Dive deep into the art of underwater portraiture with the guidance of renowned underwater model, Hannah Mermaid. Witness her expertise and tap into her insights as you capture breathtaking images together.
Equipment Provided: We've got you covered! All the necessary equipment, including underwater camera gear, professional model, and a stunning array of outfits, are provided. If you have your own underwater camera gear, feel free to bring it along and take your skills to the next level.

What You Will Learn
Housing, Camera, and Lens Selection: Discover the perfect gear to bring your underwater photography dreams to life.
Lighting Techniques: Master the art of underwater lighting, creating mesmerizing visual effects.
Working with Models: Learn how to direct and collaborate with underwater models for captivating results.
Underwater Light Physics: Uncover the science behind manipulating light underwater.
Outfit and Fabric Choices: Explore the world of underwater fashion and its role in photography.
Camera Settings: Perfect your camera settings for impeccable underwater shots.
Post Production: Tips on polishing your images and creating the final product.
Don't miss this incredible opportunity to expand your photography horizons in an awe-inspiring underwater setting, with 2 of the most experienced underwater professionals in the world.
Whether you're a budding photographer or a seasoned pro, this workshop offers an enriching experience that will leave you with a treasure trove of new skills and unforgettable memories.
Join us on November 16th at Frog Dive, Willoughby, NSW, and dive headfirst into the fascinating world of underwater studio photography.
What Does It Cost?
Book before 1st November and pay only US$999 (Full price US$1199)
Spaces are limited, so secure your spot today!

How to Book
Make a splash in the world of underwater photography!
Fill out our booking form to secure your spot.
Unleash your creativity beneath the surface & capture images that will leave you breathless!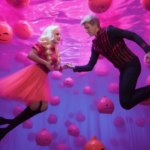 Previous post Underwater Halloween Photoshoot 2023