Underwater Modelling Adventure – Nassau, Bahamas
September 6, 2019
Bahamas Underwater Adventure
Nassau, Bahamas 23-28 June 2020
5 nights of underwater fun with Hannah Mermaid & Brett Stanley
$100 of every booking goes towards helping the Bahamas rebuild from Hurricane Dorian.
3 SPOTs REMAINING!
Join professional underwater model/coach/ocean activist Hannah Mermaid and photographer Brett Stanley on a 5 night trip to the amazing waters of the Bahamas! Staying in our own water front villa we will be exploring the underwater sights of this truely magical set of islands, learning breathing techniques, modelling tips, ocean protection issues, and taking photographs of all the fun with Brett & Hannah.
[ngg src="galleries" ids="15″ sortorder="551,543,547,544,545,546,548,549,550,552,553,554,555,556,557,558,559,560,561,562,563,564,565,566,567″ display="photocrati-nextgen_pro_horizontal_filmstrip"]
Who is this for?
This is more of a field trip/underwater vacation than a workshop, so it's for anyone who wants to have a guided tour of the best swimming spots in Nassau with two of the most experienced people in their industry. You can be a mermaid/merman or just a two legged water lover, it's all about having a good time and getting some kick-ass photos of the experience. Note: You must be a confident swimmer as some locations will be in the open ocean, totally supervised.
---
Who are the instructors?
Hannah Mermaid

Hannah Mermaid has been featured worldwide for her underwater ocean conservation and performance art, creating her own spectacular tails, performing for film, music videos, campaigns, photo shoots, public speaking events, festivals & environmental actions. She swims with sharks, whales dolphins, seals, turtles, rays and more in the open ocean. Hannah can hold her breath for minutes at a time and freedive to depths of over 50 feet. She broke records as the first person to dance with Tiger Sharks on the ocean floor with no scuba or snorkel gear, and was part of an activist group who paddled out to protect dolphins from slaughter in the academy award winning film 'The Cove'. She released a short film called Mantas Last Dance that propelled Manta rays into the public eye and helped pass a law to protect mantas worldwide. She is an advocate for ocean protection, female empowerment, animal conservation and universal love!

Brett Stanley
Photographer Brett Stanley has been obsessed with all things underwater since he was a child, growing up as a water baby he was almost never out of the family pool. Drawing on this, Brett has spent the last 6 years channelling all his energy in to creating imaginative and innovative images underwater. Working as a full time portrait photographer has meant that Brett has created a large body of underwater work, giving him a unique insight in to how to get the best out of his models, and what will and won't work below the surface. Brett's work has been published worldwide, and his underwater images have been used for book covers, album covers, and magazine covers. His relaxed attitude and calm nature make him perfect for teaching others how to stay safe and relaxed under the water.
---
What is included?
5 nights of lodging at our waterfront oasis in Nassau with pool
2 days on our sailboat exploring the islands
Daily excursions including the Clifton Heritage Underwater Sculpture Park
Transportation to and from Nassau airport
Transportation for all excursions
Most meals
Posing coaching specific to underwater modelling
10 Professionally edited images by Brett Stanley
Loads of relaxation and swimming time!

---
What will I learn?
During the 5 days Brett & Hannah will be teaching the basics and in depth techniques of underwater modelling, including:
Posing & playing to camera
Breathing & stretching exercises to maximise breath-hold
Techniques for looking relaxed
How to keep eyes open
Buoyancy control
Working with fabrics & dresses
Underwater Makeup & wig basics
Controlling hair underwater
Communication & safety skills
Yoga/stretching routine designed to allow better oxygen flow through the body and lungs
Deep breathing and free diving breath hold techniques to increase breath hold capabilities
Tips and pointers on how to swim like a mermaid most effectively
Tips and tricks on tail making
Fine tuning body movements, poses and tricks for underwater dance and swimming
Conversations on ocean conservation and how you can make a difference

---
Where will it be held?
We will be hosting the trip at our private waterfront villa in Nassau, Bahamas – minutes from the airport. A welcoming and fun island-style home boasting gorgeous ocean views and rustic charm. The house is open and airy with a large veranda, gazebos, plenty of outdoor seating, pool, hot tub and direct ocean access. Our villa has 5 rooms with various sleeping configurations, outlined below, and 4 bathrooms.
---
When is it?
23-28 June 2020
Day 1
3pm Check in
7pm Dinner (TBD)
Day 2
7am Pool side yoga
9am Breakfast at Villa
10am Breath-hold coaching and photoshoot tips
1pm Lunch at Villa
2pm Pool/Ocean photoshoots
7pm Dinner out
Day 3
7am Breakfast at Villa
Sailing/swimming/photoshoots in open water
Lunch on the boat
7pm Dinner at villa
Day 4
7am Breakfast at Villa
Sailing/swimming/photoshoots in open water
Lunch on the boat
7pm Dinner at villa
Day 5
7am Pool side yoga
9am Breakfast at Villa
10am Trip to Underwater Sculpture Garden
1pm Lunch (TBD)
2pm Free Time
7pm Dinner out
Day 6
9am Breakfast at Villa
10am Check out
---
What are the costs?
Special $200 discount, if deposit paid before September 30 2019.
Master Room


Top floor with king bed, dressing & vanity area, en-suite, and an ocean-front balcony with uninterrupted views as far as the eye can see.
$4500 for the room, including 2 people. (AVAILABLE)
---
Room #2
(BOOKED)


Top floor, lovely airy bright room with queen bed plus optional 2 single substantial foldaway beds, and en-suite bathroom.
Option 1
$4000 for the room, including 2 people. (BOOKED)
Option 2
$3500 for the Queen bed, including 2 people
$2000/each for additional single bed, max 2
---
Room #4
(AVAILABLE)

Lower sea floor level bedroom with king bed, shared bathroom and an optional double pull out sofa bed.
Option 1
$4000 for the room, including 2 people. (AVAILABLE)
Option 2
$3500 for the King bed, including 2 people
$2100 for the double pull out, max 1 person
---
Room #5
(Only 1 Left!)


Good size family room with a pair of single bunk beds plus a single futon and a double futon with a small bathroom with shower very close by.
$2000 per person (Only 1 Left!)
---
How to to book!
Simply email us with the following details, and we will get back to you with availability: Full Name, Email Address, Phone Number, Room/Bed preference.
We also require a $500 non-refundable deposit per person to secure the booking and please read our terms and conditions before booking.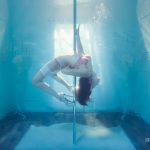 Previous post Underwater Room Photoshoot – Las Vegas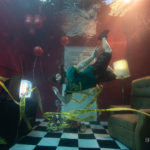 Next post Halloween Underwater Horror Room – 2019