Underwater Room Photoshoot – Las Vegas
June 21, 2019
Las Vegas, Nevada
– 21-23 August 2019 –
Come and shoot in our custom built underwater room!
First time ever in Las Vegas!

Book before 5th July and save $100!
What is an underwater room?
We create amazing underwater sets for photography and video productions, and we open some of them to the public to come and play. The rooms are unique and like nothing seen underwater before! We can shoot pole or aerials in this set, mermaids, cosplay, glamour, or even group/family shots, and the rooms are only 8ft deep so you don't need to be able to dive deep! Our sets are built to withstand the pressures of being submerged and the feeling of floating in a watery room is just dreamy!
What will the room look like?
Each room we build is different, but for this event we will be creating a Black & Gold Baroque Underwater Room. Below is our inspiration for the room, based on our hugely popular White Baroque Room:


When is it?
21-23 August 2019
What's the location?
We will be holding the event at an indoor heated pool in Henderson, Nevada, a 25min drive from the Vegas Strip.
Who is this for?
This is for anyone who wants to have an experience like no other! Imagine floating weightless in a fully furnished room, being free to glide/hover/float and twist where you want.
The room is also great for underwater Aerials such as Hoop or Trapeze, and Underwater Pole!
Our photographer Brett Stanley is very good at making people feel comfortable in the water, and even people who can't swim will get great results!
What if I don't have an outfit?
Having the right outfit for a shoot can feel like a daunting task, but we can give you advice on what might work for you in the room. We can also organise an outfit for you to rent, or we will have fabric available to use.
See below for our previous underwater room experience!
What's the cost?
Book before 5th July and save $100!
Underwater photoshoots can be very expensive to put together, especially something this unique, but we've tried to keep our prices low to make it affordable for anyone. You can also share a package with a friend or partner if you like, making it more affordable.
Underwater Set Package ($599)
1 x 60 Minute Pool Session
5 x Retouched High Resolution Images
Private Online Gallery (for viewing & ordering images)
Posing & Breath-hold Coaching
Use of all props and available outfits
Optional Extras
Underwater makeup**: $90/person
Additional person per shoot (Doubles or Group): $150/person
Additional retouched images: $75/image (bulk discount prices available)
We can organise a payment plan if needed.
** (Makeup needs to be specifically waterproof or it will come off once you get in the pool, alternatively we can have one of our experienced underwater makeup artists at the shoot for you.)
Read our Frequently Asked Questions for more details.


"It was my first time doing anything underwater but Brett gave me lots of prep before hand and made it an awesome experience. Super happy with the result and would totally recommend it!"
---
How To Book
Places are very limited, so please fill out the form below to register your interest:
[contact-form-7 id="2192″ title="Booking Form"]
---

"Experience of a lifetime! Fantastic shots!"
---
Gallery
[ngg src="galleries" ids="9″ display="photocrati-nextgen_pro_masonry"]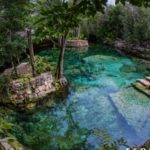 Previous post Underwater Modelling Workshop – Tulum Mexico